Finally, Old Man Winter seems to have keeled over and died. Good riddance. Even though it is 55 and raining in Jersey today, I am in denial and am pretending it is 80 and sunny! The weather has been looking up and warmer each week, though. I made my mother's famous macaroni salad for my daughter's birthday party tomorrow, and figured I'd share her recipe with you all. Every time we go to a BBQ (or a cookout as some of you call it) or a picnic, I make this and every time people ask for the recipe. It is so simple, easy, and yummy. Even my toddler eats it, even if she does pick out the vegetables.


What you need:


(not all items pictured because I'm pregnant and blond and have a hard enough time remembering to wear pants)

1 lb of elbow macaroni
1/2 c. chopped red onion
1/2 c. chopped green pepper
(or 1/4 c. each chopped celery and green pepper)
1 c. mayo
1/2 lb. cubed deli ham (get the good stuff)
1 packet dry ranch dressing
2 tbsp apple cider vinegar
2 tbsp milk

What you do:
1. Boil the macaroni as directed. But when it is finished and you drain it, cool it immediately with cold water.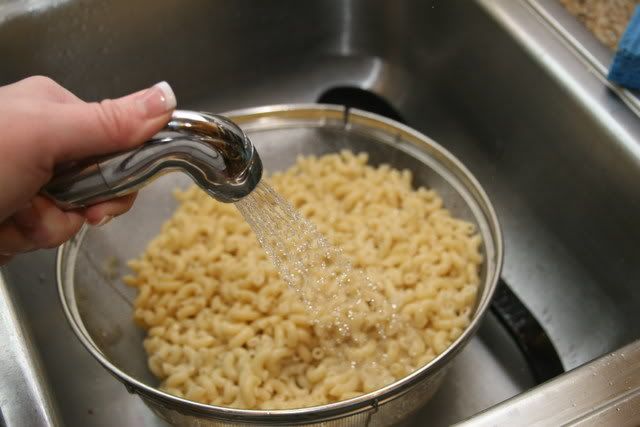 2) Add in all chopped onion (and/or celery), pepper, and cubed ham. (Note: when you go to the deli, ask for the 1/2 lb. in a block so you can cube it)



4) Add in mayo, vinegar, milk, and ranch dressing.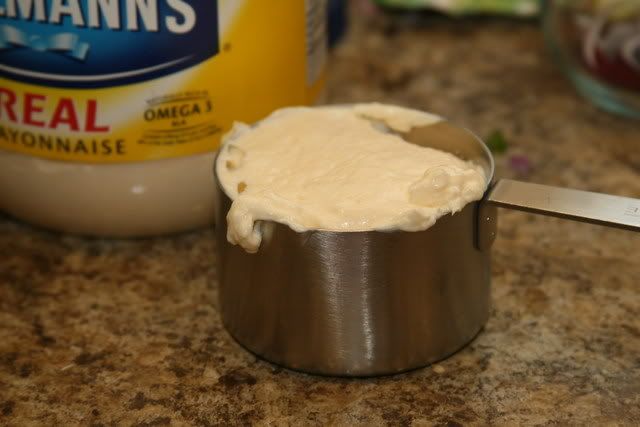 5) Taste it. It is unlikely if it needs salt because the dressing usually is salty enough, but if you use low-fat mayo, you might need a little more.


Notes: My mother also puts in sliced black olives, in which case you definitely don't need anymore salt, but I am not a fan and leave it out. Also, this is best made the night before (or at least a few hours) the event. Overtime, the macaroni absorbs the mayo and you may need to add more to your taste. Plus, it gives time for all the flavors to meld.

Enjoy!