The other day, I found myself staring in the refrigerator, as us ginormously pregnant women often do. I wanted something but wasn't sure what. And then I figured it out! Mike makes Alton Brown's cinnamon rolls from scratch (and you would punch a puppy for these), rolls out his own dough, lets it rise overnight, etc. etc. I didn't have time for that. I decided I wanted cinnamon rolls Right. This. Minute. Or. I Would. Just. Die.

So, I concocted these. They were as tasty as they were ugly. Though I could have arranged them nicer on a plate, I couldn't wait that long and ate them right off the rack.

Here's what you need:




ROLLS:
1/2 stick softened butter
2 tsp. cinnamon
2 tsp. sugar
1 tsp. brown sugar (not necessary but oh-so-yummy)
1 pkg. crescent rolls

FROSTING:
1 c. powdered sugar
1/2 c. softened cream cheese
2 tbsp. softened butter
2 tsp. vanilla

For the rolls:
1) Mix all ingredients in a bowl. Use microwave if need help softening or stirring, but make sure you don't melt it too much.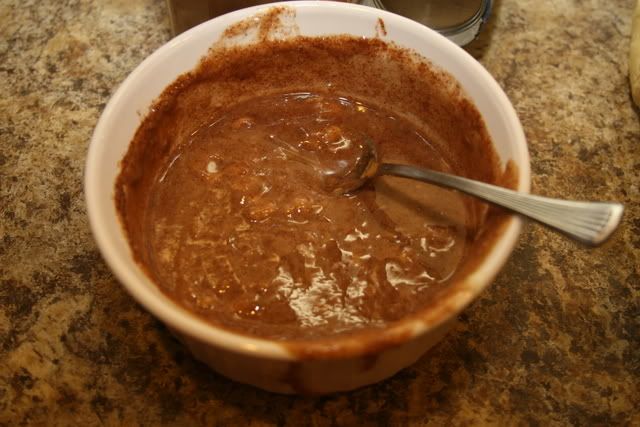 2) Lay out your crescent rolls and spread the mixture down the center.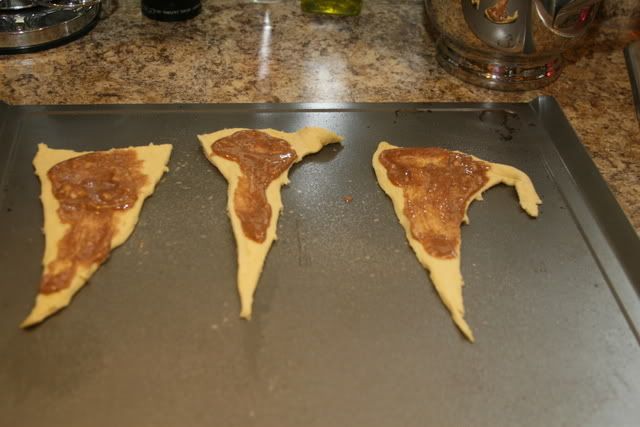 3) Roll up.


4) Bake according to instructions on your crescent roll package. (Note: I did not use non-stick foil (or parchment), though I should have because the butter leaked out, and some burned causing the fire alarm to go off. During naptime. Gah-reat. SO yes, some butter will leak out, but don't worry. There's still plenty inside)
5) Make the frosting by beating all ingredients together in your KitchenAid (seriously, how do people LIVE without these) or a hand mixer.


6) Spoon about a tablespoon on each roll while they are still hot. This will allow the frosting to melt a little, just like on a cinnabon!


7) Try not to eat the frosting by the spoonful. Seriously, you will start thinking what other things you can put this frosting on. I'm not kidding.
8) Let cool for a few minutes, if you can resist, and then enjoy!

Again, they may not look that pretty, but they sure do taste good. If serving to anyone other than a pregnant woman and her husband, I recommend putting them on a nice platter, rather than scarfing them down off the cookie sheet. But, that wasted too much time for us. :)