We belong to a Community Supported Agriculture (CSA) where each week, we get a share of a local farmer's organically grown produce. The past two weeks we've been able to pick our own blackberries, leaving me to come up or find some recipes to make with them. Look how fresh and yummy: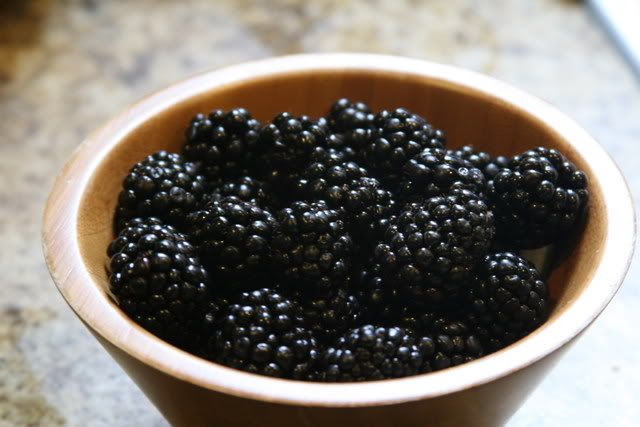 So, I searched and tweaked and present you with BLACKBERRY CRUMB CAKE:

What you need:

Cake:
2 c All-purpose flour
2/3 c Sugar
3 tsp Baking powder
1/2 tsp Baking soda
1 tsp. Salt
2 Eggs
1 c Milk
1 stick butter, melted
2 tbsp. Lemon juice (about one lemon)
2 c. fresh blackberries

Crumbs:
2/3 c Sugar
1/2 c All-purpose flour
1/2 tsp. Cinnamon
4-5 tbsp. butter, softened
1 c Chopped nuts (I used pecans, but walnuts and other nuts would work as well)




-Preheat oven to 375
-Make the crumbs by combining all the ingredients with a fork until soft but still crumb-like. It should look like this:




To make the cake:
1) In one large mixing bowl measure the flour, sugar, baking powder, baking soda and salt. Stir well to blend.

2) Into another cup, combine eggs, milk, butter and lemon juice (In that order - otherwise, the hot butter will cook the egg a bit).

3) Stir liquid ingredients into dry ingredients until blended. Batter will be very airy - like biscuits.

4) Turn into buttered 13-by-9-inch baking dish.




5) Sprinkle berries evenly over the batter.




6) Sprinkle with the Crumb Topping.




7) Bake for 30-40 minutes or until it passes the toothpick test.

8) EAT