Strong Enough for An Amishman but Made for a Woman

This recipe comes courtesy of Pomjob

-----

I grew up like five minutes from the famed Amish County, U.S.A., where baked oatmeal is a cornerstone of the breakfast table (at least according to all the area bed & breakfast establishments). I don't remember my first encounter with the delectable dish but I remember rediscovering it a couple years ago when I went to a new breakfast hotspot in my hometown. In an area where men (i.e., my brother-in-law) really do wear shirts reading "Vegetarian is Just Another Name for Bad Hunter," there are few options if you're not of the meat and egg-loving persuasion. Out of desperation, I decided to try the baked oatmeal and it was heaven on a spoon.
My recipe for baked oatmeal has been different every time because I always modify a recipe I find online, but I never write it down. Thank you, Chop.Stir.Mix, for the opportunity to write down my latest variation for posterity.
First, gather your ingredients. I like short, sweet recipes so don't let this list intimidate you. You can mix and match; this is my first time trying it with banana, usually I chop up an apple but I was fresh out. I tried to make this healthy so I substituted applesauce and yogurt for oil. Craisins are my newest foodsession so I tossed in a handful; you can try walnuts or pecans, too. It's so versatile.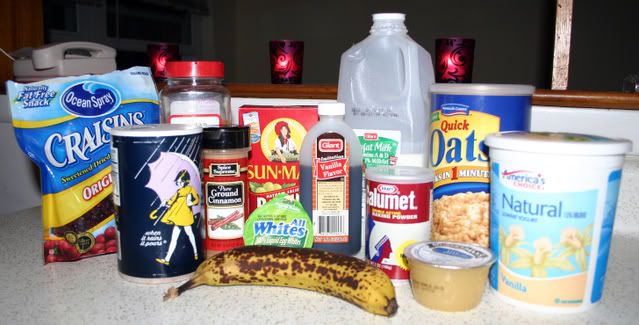 3 c oatmeal (regular or quick oats)
Dash salt (optional)
1 t cinnamon (I'll use more next time)
½ t nutmeg
2 t baking powder
¼ c brown sugar
½ c applesauce
½ c lowfat vanilla yogurt
2 eggs (or the equivalent)
1 ½ c lowfat milk
Dash of vanilla
1 mashed banana
½ c raisins
½ c Craisins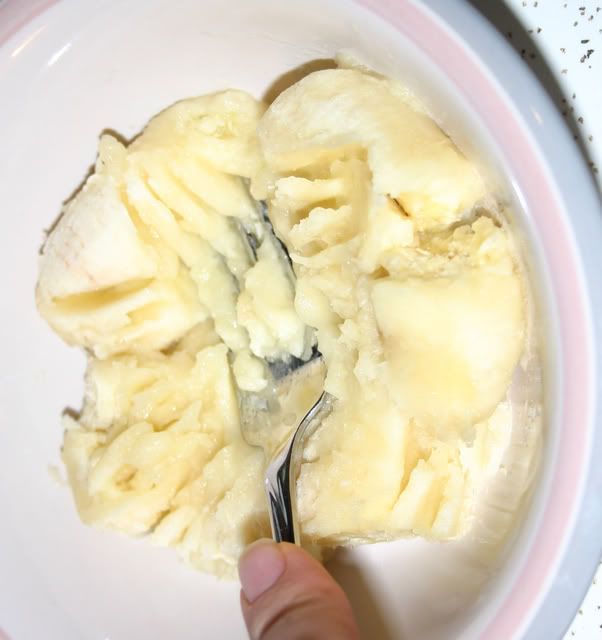 Get that banana good and smashed (enlist a kid to help with this step, if you have on hanging around). Mix milk, banana, applesauce, yogurt, eggs and vanilla in one bowl.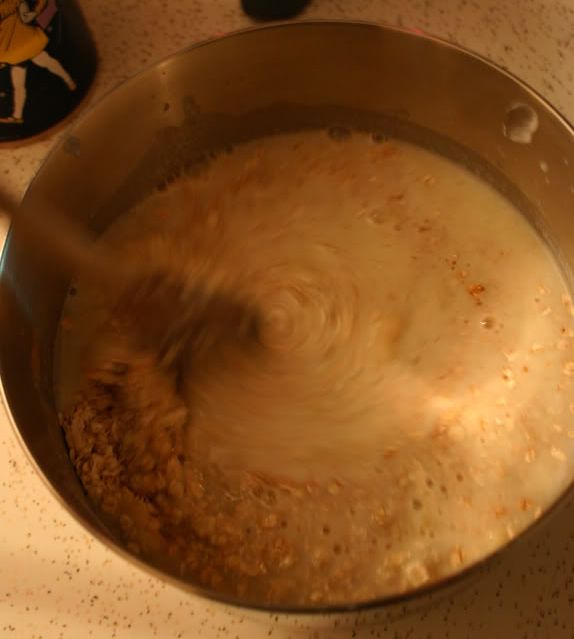 In a big bowl, combine oatmeal, salt, brown sugar, spices and baking powder. Add wet ingredients to try ingredients and stir.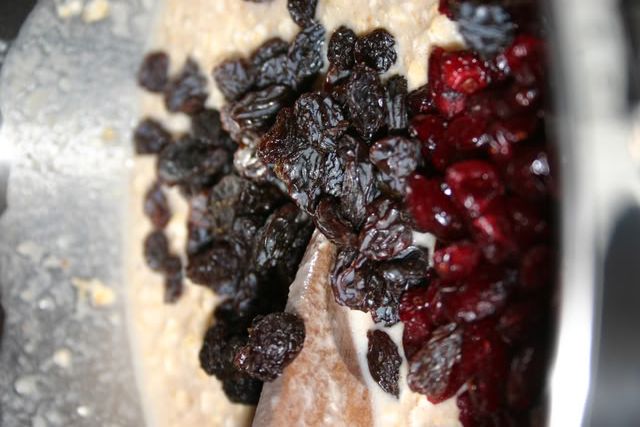 Add a handful of raisins and another of Craisins. After one more quick stir, pour into pan sprayed with non-stick spray. I'm using a 9x13 pan to make a thinner oatmeal, for thicker slices use a 9x9 pan.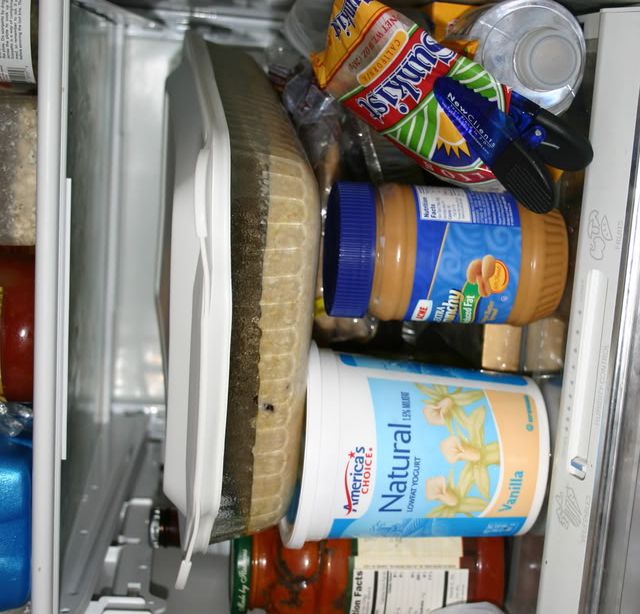 Now you can either put it in the oven at 350 for about 30 minutes or until the center is firm but not over-baked, or cover and store in the refrigerator and bake it in the morning. The flavors blend well when refrigerated overnight. I'm going to pop it in the oven before I shower and it'll be nice and hot to take into the office. No one in my office had ever heard of baked oatmeal before I brought it into the office a couple months ago. They rioted when I took home the half-empty pan at the end of the day because I was traveling for the rest of the week. It's THAT good. (Although my coworkers will eat pretty much anything. Except those chocolate candies contributed by my Ukrainian coworker that someone thought was made with bird's milk. It wasn't until I pointed out that birds don't produce milk that that rumor was put to rest, but the candy was eventually throw away because bird's milk, yum!)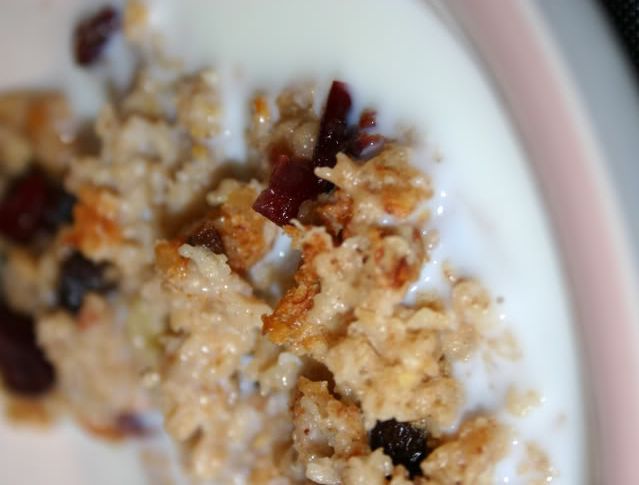 When piping hot, dish up bowls and top with milk (some prefer the milk heated, I like it cold) or yogurt. It's great as leftovers, too. Wrap individual squares and eat as a breakfast bar as you run to catch the bus. (Oh, am I the only one that runs for the bus EVERY morning?)
Postscript: The banana flavor is very strong. I will add more cinnamon next time because I like my baked oatmeal like I like my men: SPICY!