Okay, so I realize it's not technically pumpkin pie season, but to that I say: Who Cares? My husband's father and my mother are both diabetic, so I've come up with some pretty inventive recipes for pies and desserts over the years that they could enjoy just like everyone else.

I made this a couple weeks ago just because I saw a can of pumpkin in my basement pantry and decided to.

Also, since having my son, sugar is not my friend and immediately sends weight to Mah Belleh, so this is a great option for something sweet without the actual sugar.

What you need:



1 Pillsbury frozen pie crust
1/3 c. water
2/3 c. splenda
(2) TWO 0.8 oz pkgs of Jell-O Cook N Serve Sugar Free Fat Free vanilla pudding.
3/4 c. evaporated skim milk
1 ½ c. canned pumpkin (not the pie filling)
2 large eggs
1 tsp each of cinnamon, nutmeg, pumpkin pie spice, and vanilla

Directions:
1) Combine water and splenda in a saucepan. Bring to a boil, then simmer on low for 5 minutes. Let cool.
2) Whisk the two packages of dry pudding mixture in. The consistency will be extremely thick and "goopy". This is okay.
3) Beat the two large eggs and whisk them into the mixture.
4) Add the evaporated skim milk and pumpkin.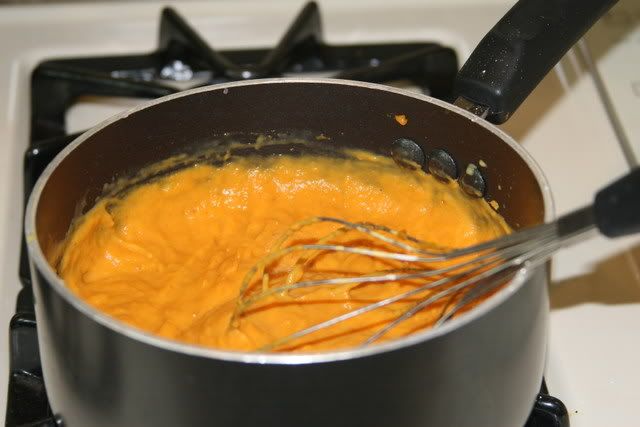 5) Add spices and vanilla.
6) Pour into pie crust and bake @ 350 deg for 30-35 minutes or until center is firm.

Note: if you want, you can brush the bottom of the pie shell with egg whites and bake quickly for 5 minutes before pouring in crust. This helps form a "seal" on the crust.



(I realize this isn't the best picture but the pie crust was old and in the freezer too long and as a result broke apart easy)

-You can serve with Sugar free coolwhip as well.

**This is 2.5 pts for 1/8 pie. If you use egg beaters instead, it becomes 1.5 pts/piece