This morning, I twittered that I had a bunch of figs from the farmer's market that I just could no longer eat. I'm the only one in the house that will eat them fresh and raw. My 31-year old husband won't eat them because he thinks they look like zombie guts and my toddler is currently on a plum kick and anything else is crap.

I went on a hunt for a recipe I could make with them. Normally, I'd love to stuff those little sons of bitches with goat cheese, some fresh herbs, and bake them. But again, I'd be the only one to eat them and there was quite a bit of figs left.

So I came across a few different recipes for fig bread, fig loaf, etc., and many of them required things I don't have in the house: vegetable shortening (um, ew, how 'bout "no" Scott?), buttermilk, the blood of a goat. I was forced to concoct my own using a few different ones for ideas.

And they were well worth the mini-stroke I had when my toddler put her little plastic mermaid in the Kitchen-Aid while it was on.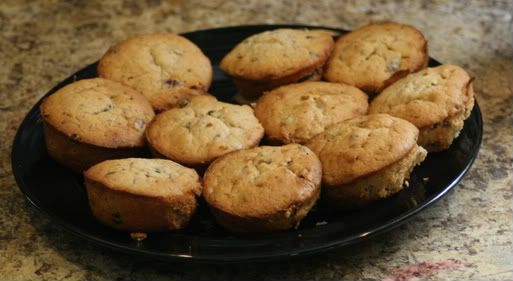 What you need:
6 tbsp butter, softened
2/3 c. white sugar
1/3 c. brown sugar
1 large egg
1 1/2 tsp baking powder
1/2 tsp. salt
2/3 c. milk
1 3/4 c. all purpose flour
2 tsp vanilla
1/2 tsp. allspice (or nutmeg)
1/2 tsp. cinnamon
1 c. figs, chopped very finely or pureed
1/2 c. dried cranberry (I used 1/4 c. cranberry and 1/4 c. currants if you have those)

What you do:
-Mix the butter and both sugars until fluffy
-Add in the egg, vanilla, and spices
-In a separate bowl, combine the flour, baking powder and salt
-Gradually add in the dry mixture to the wet, alternating with the milk.
-Fold in the figs and cranberries
-Spoon into 12 muffin cups
-Sprinkle a little brown sugar on top if you like the crumbly texture on top of muffins
-Bake at 350 for 20-30 mins or until passes the toothpick test and slightly browned

These muffins come out slightly crispy on the outside and so soft and moist inside. Perfect for the fall!