Last week, I made this salsa recipe because I was craving avocados and was sure I would. just. die. if I didn't have something with avocado. All I had to do was sign onto my Gmail Chat, see that Cass was online, and said "I need something with avocado RIGHT NOW," and since we're exactly the same week in our respective pregnancies, she understood my urgency and sent me directly to this recipe and it was AWESOME.

But there's a catch. My husband, as wonderful as he is, doesn't like avocado. I know, right? Who IS this man I married? And he watched me make the salsa and kept saying how GOOD it looked and he sure would love some mango salsa. And I was all like "Do you see mangoes anywhere?" He was all like "Ewwww, fine." I digress. So this week at the supermarket, he bought a mango and asked if I'd help him concoct a sweet-n-spicy salsa. And so we did! Not to toot my own horn or anything but it is damn fine. Like Taye Diggs damn fine.

I'm going to put it over a pan-seared Mahi Mahi filet for dinner tonight, but it is also very yummy with chips, which I may or may not have had a whole bowl of this afternoon. Hey, I'm 8 months pregnant. I can eat a whole bowl of Tostitos if I want to and if you look at me funny while doing it, I'm liable to eat you too.

So, here it is.

What you need:

5-6 diced roma (plum) tomatoes
5-6 tomatillos
1 small cucumber, peeled, seeded, and diced
1 mango, diced
1 jalapeño, diced
1/2 c. chopped cilantro
1/2 c. chopped red onion
3/4 c. diced canned (jarred) peaches
1/8 c. orange juice or 1/8 c. peach juice
juice of one lime
2 tsp. sugar

Few things of note:
1) Depending on the amount of spice you want, leave the ribs (the white part inside the pepper) or remove it from the jalapeno. All of the spice is in the ribs and seeds. Add/remove to your preference.
2) The reason I say to use the canned/jarred peaches is that I also used some of the juice in the jar. If you'd rather use fresh, use a splash or two of orange juice.
3) Feel free to add avocado in it. I set some aside and added avocado to my own stash and it's fantastic.
4) Cover and store for at least an hour. This is great to eat soon but is much better after the flavors marinate in a sealed container overnight.

Making the salsa:

-Mix all ingredients. That's it! How easy!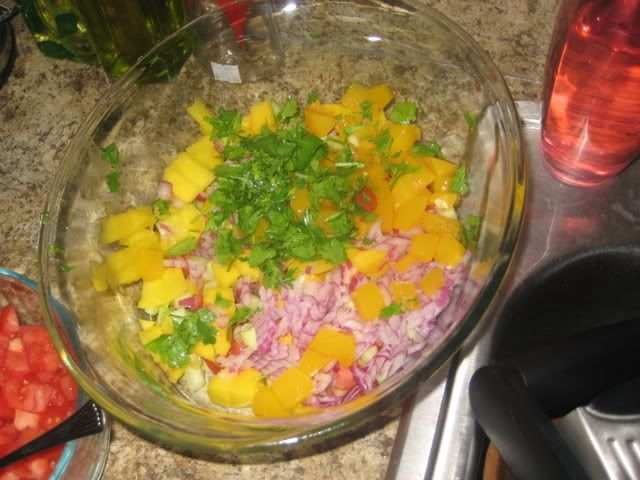 After it sits overnight, stir and serve on top of your choice. I think this would be best with light white meats - grilled chicken, pork loin, or grilled/pan-seared fish like swordfish, mahi-mahi, sea bass, etc.